Desctiption
Specifications
BMW i3
The BMW i3 is a compact electric car produced by the German automaker BMW. It was first introduced in 2013 and has since become one of the most popular electric cars on the market.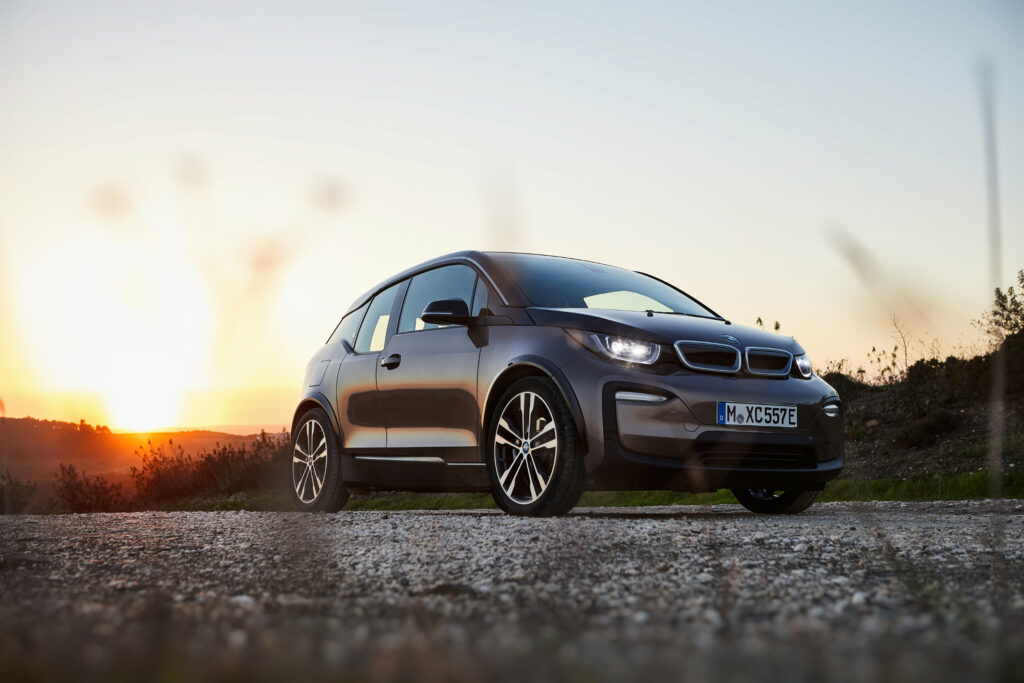 The i3 features a 42.2 kWh battery pack and an electric motor that develops up to 125 kW, 250 Nm of torque. According to BMW, it has a range of up to 360 km on a single charge and can be charged from 0 to 80 percent in about 40 minutes using a fast-acting DC charger.
The car has an original and futuristic design, with a carbon fiber reinforced plastic (CFRP) body, which makes it both lightweight and durable. The interior is also unique, using sustainable materials such as recycled plastic and renewable eucalyptus wood.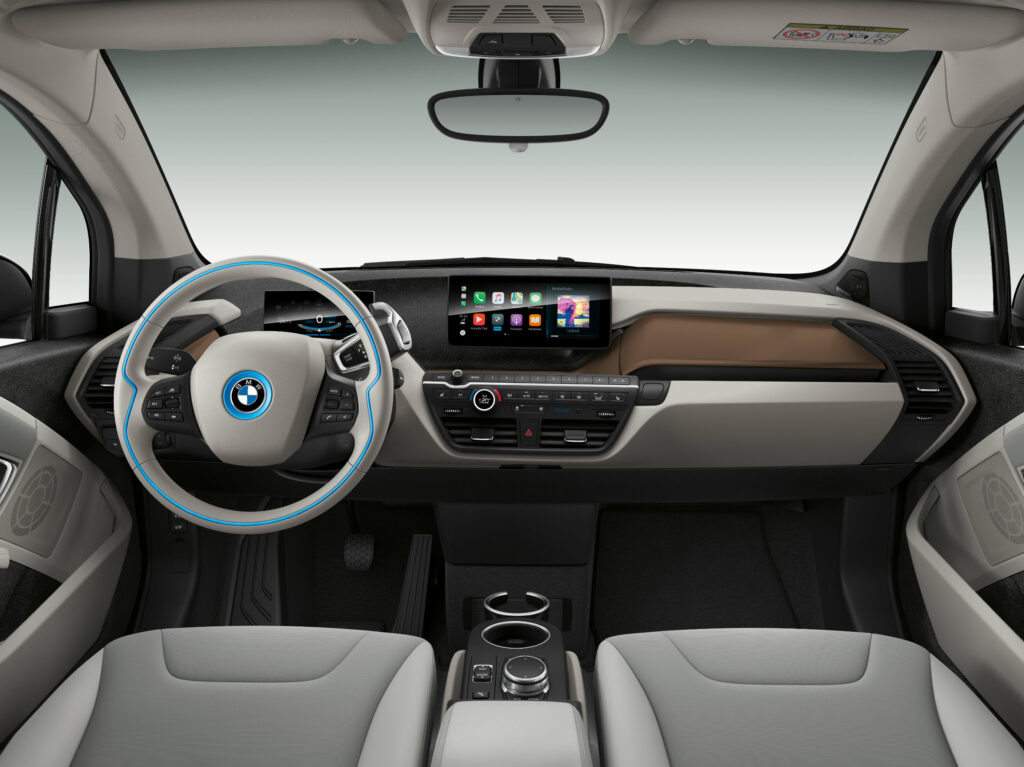 The i3 is equipped with advanced technology features such as a head-up display, a voice-activated digital assistant, and a large touchscreen display for the infotainment system and navigation. It is also equipped with advanced driver assistance systems such as automatic emergency braking and lane departure warning.
Overall, the BMW i3 is a stylish and efficient electric car that offers a fun and engaging driving experience while being environmentally friendly. It is a great option for those looking for a compact and eco-friendly car for city driving.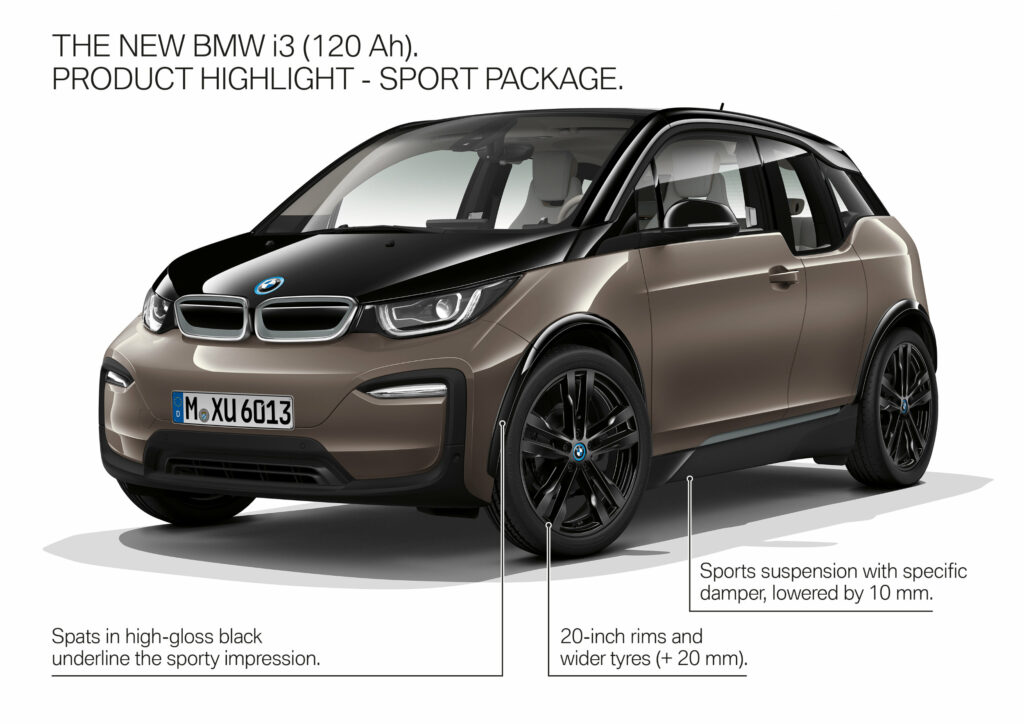 | | |
| --- | --- |
| | |
| | |
| | |
| | |
| | |
| | |
| | |
| | |
| | |
| Performance | |
| Acceleration 0 – 100 km/h | 7.3 sec |
| Top Speed | 150 km/h |
| Electric Range | 235 km |
| Total Power | 125 kW (170 PS) |
| Total Torque | 250 Nm |
| Drive | Rear |
| | |
| Battery and Charging | |
| Battery Capacity | 42.2 kWh |
| Battery Useable | 37.9 kWh |
| Europe | |
| Charge Port | Type 2 |
| Port Location | Right Side – Rear |
| Charge Power | 11 kW AC |
| Charge Time (0->235 km) | 4h15m |
| Charge Speed | 58 km/h |
| Fastcharge Port | CCS |
| FC Port Location | Right Side – Rear |
| Fastcharge Power (max) | 49 kW DC |
| Fastcharge Time (24->188 km) | 36 min |
| Fastcharge Speed | 270 km/h |
| | |
| Energy Consumption EVDB Real Range | |
| Range | 235 km |
| Vehicle Consumption | 161 Wh/km |
| CO2 Emissions | 0 g/km |
| Vehicle Fuel Equivalent | 1.8 l/100km |
| NEDC Ratings | |
| Range | 359 km |
| Rated Consumption | 131 Wh/km |
| Vehicle Consumption | 106 Wh/km |
| CO2 Emissions | 0 g/km |
| Rated Fuel Equivalent | 1.5 l/100km |
| Vehicle Fuel Equivalent | 1.2 l/100km |
| WLTP Ratings | |
| Range | 308 km |
| Rated Consumption | 153 Wh/km |
| Vehicle Consumption | 123 Wh/km |
| CO2 Emissions | 0 g/km |
| Rated Fuel Equivalent | 1.7 l/100km |
| Vehicle Fuel Equivalent | 1.4 l/100km |
| Rated = official figures as published by manufacturer. Rated consumption and fuel equivalency figures include charging losses. | |
| Vehicle = calculated battery energy consumption used by the vehicle for propulsion and on-board systems. | |
| | |
| Real Energy Consumption between 105 – 230 Wh/km | |
| City – Cold Weather | 161 Wh/km |
| Highway – Cold Weather | 230 Wh/km |
| Combined – Cold Weather | 190 Wh/km |
| City – Mild Weather | 105 Wh/km |
| Highway – Mild Weather | 176 Wh/km |
| Combined – Mild Weather | 138 Wh/km |
| Energy use for each trip will vary considerably depending on the driver and the conditions. Therefore, we have provided a range of estimates which can be useful in developing an understanding of the potential benefits of this technology | |
| | |
| Dimensions and Weight | |
| Length | 4011 mm |
| Width | 1775 mm |
| Width with mirrors | No Data |
| Height | 1598 mm |
| Wheelbase | 2570 mm |
| Weight Unladen (EU) | 1345 kg |
| Gross Vehicle Weight (GVWR) | 1710 kg |
| Max. Payload | 440 kg |
| Cargo Volume | 260 L |
| Cargo Volume Max | 1100 L |
| Cargo Volume Frunk | No Data |
| Roof Load | 0 kg |
| Tow Hitch Possible | No Data |
| Towing Weight Unbraked | 0 kg |
| Towing Weight Braked | 0 kg |
| Vertical Load Max | No Data |
| | |
| Miscellaneous | |
| Seats | 4 people |
| Isofix | Yes, 2 seats |
| Turning Circle | 9.9 m |
| Platform | No Data |
| Car Body | Hatchback |
| Segment | B – Small |
| Roof Rails | No |
| EV Dedicated Platform | No Data |
| | |
| --- | --- |
| Brand | BMW |
| Model | i3 |
| Body Style | Hatchback |
| Car Engine | Electric |
| Motor power | 125 |
| Maximum Torque, Nm | 250 |
| Battery Energy, kWh | 42.2 |
| Power reserve (NEDC/EPA/WLTP), km | - / - / 360 |
| Level Charging (230/400/DC), hours | - / 4.15 / 0.36 |
| Electrical Acceleration, 0-100 km/h (0-62.1 mph) in sec | 7.3 |
| Top Speed, km/h | 150 |