Desctiption
Specifications
Honda PCX Electric
Honda began delivering the PCX Electric in Japan in December. 250 units of the new electric scooter have been manufactured and initially leased to companies, government agencies, and selected individuals for research purposes. The initial trial phase will also include a bike-sharing service in the Tokyo district and a rental service for tourists at a bike rental shop starting in spring 2019.
In Southeast Asia, further leasing and sales activities are planned. In the Philippines, for example, the PCX Electric is to be used as an experiment in a power-surplus utilization system. Honda wants to use the feedback from the first practical application to better assess the usability of electric scooters for both companies and private users.
The PCX Electric is powered by a newly developed electric motor with internal permanent magnet (IPM) technology. This is said to make peppy torque available from low speeds for effortless, dynamic acceleration even at startup. Handling is child's play, simply turning the throttle grip is enough to get going, while the comfortable seating position and easy handling support the riding pleasure.
The power supply is provided by two removable "Honda Mobile Power Pack" units; this gives a range of around 40 kilometers. The mobile (removable) batteries can either be charged in the vehicle using the supplied charging cable, which takes around 6 hours or after removal using an optional external charger, which takes around 4 hours.
The newly developed 96-volt EV system uses two 48-volt lithium-ion batteries connected in series. Thanks to the IPM structure, there is high energy efficiency and high performance even at low speeds. The maximum motor power is 4.2 kW (standard power: 0.98 kW) and enables effortless dynamic locomotion. Thanks to its precisely controlled power output, the compact electric unit is protected against overloading as well as overheating; additional units such as an oil pump, cooler, and clutch are unnecessary. The overall length of the electrically powered PCX has remained unchanged, only the wheelbase has been lengthened to create space for the batteries and the drive unit under the seat. The comfortable and upright seating position, ample space, safe road-holding, and easy handling remain unchanged in the electric PCX.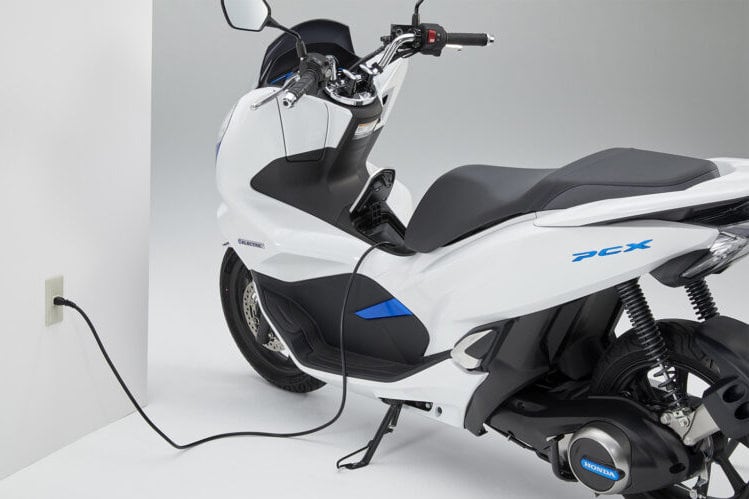 The electric power pack is positioned further back than the combustion PCX. The engine suspension and rear wheel suspension have been modified accordingly. The silky smooth and quiet running of the electric drive contributes to ride comfort in a pleasant way. The ABS anti-lock braking system acts on the front wheel alone. The PCX Electric is only available in pearl white. LED lighting technology all around underscores pleasing styling. Various Candy Blue accents refine the outfit and underscore the premium appeal of the e-vehicle. In the cockpit, a speedometer, timer, and battery indicator provide information on the status while driving and on the charging status when the scooter is connected to the mains for charging. The PCX can be conveniently put into operation via a Honda smart key system.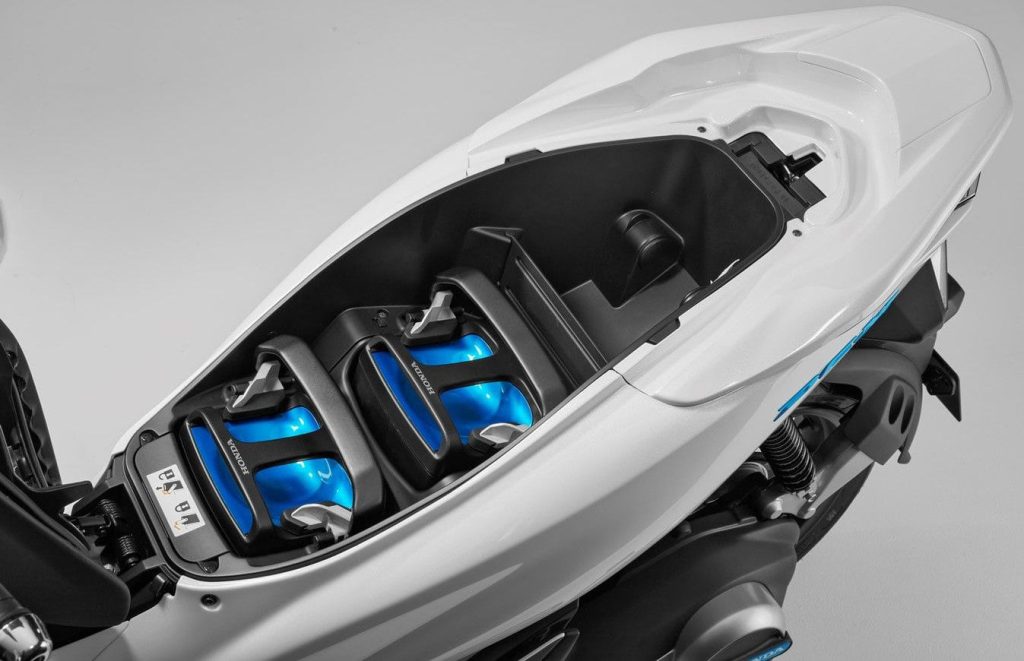 | | |
| --- | --- |
| Brand | Honda |
| Model | PCX Electric |
| Status | Coming Soon |
| Release Date | Feb 2022 |
| Mileage | 41KM |
| Motor Type | AC synchronous motor |
| Max Power | 5.7 PS @ 5500 rpm |
| Max Torque | 18 Nm @ 500 rpm |
| Front Brake | Disc |
| Rear Brake | Disc |
| Body Type | Electric Bikes |
| Charging Point | Yes |
| Clock | Digital |
| Speedometer | Digital |
| Tripmeter | Digital |
| Drive Type | Hub Motor |
| starting | Push Button Start |
| Transmission | Automatic |
| Console | Digital |
| Front Suspension | Telescopic |
| Rear Suspension | Unit swing type |
| Length | 1960 mm |
| Width | 740 mm |
| Height | 1095 mm |
| Saddle Height | 760 mm |
| Ground Clearance | 132 mm |
| Wheelbase | 1380 mm |
| Headlight | LED |
| Tail Light | LED |
| Turn Signal Lamp | LED |
| Battery Capacity | 50.4 V, 20.8 Ah |
| Tire Size | Front :-100 / 80-14, Rear :- 120 / 70-14 |
| Tire Type | Tubeless |
| Wheel Size | Front :-355.6 mm, Rear :-355.6 mm |
| Wheel Type | Alloy |
| | |
| --- | --- |
| Brand | Honda |
| Model | PCX Electric |
| Motor power | Electric |
| Maximum power, kW | 4.2 |
| Maximum torque, Nm | 18 |
| Battery type | Li-ion |
| Charging time, hours | 3.0 |
| Top Speed, km/h | 60 |
| Weight, kg | 144 |
| Power reserve, km | 41 |