Desctiption
Specifications
Nikola NZT
The Nikola NZT is an all-electric off-road vehicle produced by the Nikola Motor Company of America, which specializes in the production of electric and hydrogen fuel cell vehicles. The NZT is designed for extreme off-roading and features a 590 Nm electric motor that provides a top speed of 100 kilometers per hour and a range of up to 240 kilometers on a single charge.
The NZT is available in two- and four-seat configurations and features a rugged steel tube frame, long-travel suspension, and 33-inch off-road tires. The vehicle is also equipped with advanced safety features, such as an anti-lock braking system and electronic stability control, to provide optimum control and handling in challenging off-road conditions.
Inside, the NZT is built for comfort and practicality, with features such as adjustable seats, a digital dashboard, and a waterproof infotainment system. The NZT is also equipped with advanced off-road technology, including a torque vectoring system and an advanced all-wheel-drive system to provide maximum traction and control on any terrain.
The Nikola NZT is a popular choice for off-road enthusiasts looking for an environmentally friendly, high-performance vehicle that can handle even the toughest terrain.
| | |
| --- | --- |
| DRIVETRAIN | |
| | |
| Engine Type | 400V AC Motors |
| Battery Capacity | 125 kWh Lithium Ion Battery Pack |
| Transmission | Single gear reduction at each wheel |
| Drive System | On-Demand 4×4 or 2×4 |
| Engine Braking System (EBS) | Motor Regenerative Braking |
| Control Arms | High Grade Steel Webbing |
| ABS | Anti Lock Braking |
| | |
| WHEELS/TIRES | |
| | |
| Front Tires | 35″ Kevlar reinforced |
| Rear Tires | 35″ Kevlar reinforced |
| Wheel Material | Cast Aluminum |
| Wheel Style | 17″ Bead lock |
| | |
| SUSPENSION | |
| | |
| Front Suspension | 18″ of travel with 3.0″ FOX Podium Internal Bypass Shocks |
| Rear Suspension | 18″ of travel with 3.0″ FOX Podium Internal Bypass Shocks |
| | |
| DIMENSIONS | |
| | |
| Ground Clearance | 12.0″ |
| Overall Vehicle Size (W x H x L) | 72″ x 73″ x 160″ |
| Payload Capacity | 1,260 lbs |
| Person Capacity | 4 |
| Wheelbase | 125″ |
| Estimated Curb Weight | 2382 kg (5250 lbs) |
| | |
| FEATURES | |
| | |
| Display Monitors | 13″ Infotainment & 7″ Instrument Cluster |
| Color / Graphics | Nikola Blue or Black |
| Electronic Power Steering | High Torque assist |
| Winches | 10,000 lbs capacity – Optional / Rear and Front |
| Hitch Towing Rating | 3,000 lbs |
| Hitch Receiver Type | Accepts ball size up to 2 5/16″ . Trailer connectors optional |
| Lighting | LED High/Low, integrated signature light with SAE J588 turn signal & Red LED Tail/Brake Lights |
| Instrumentation | Full detailed Human Machine Interface with apps. Bluetooth audio controls. |
| Solar Charging | 4 kW solar DC charger |
| 12V Battery Bank | 12V AGM |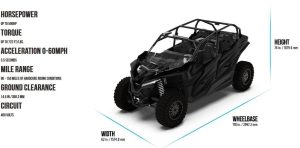 | | |
| --- | --- |
| Brand | Nikola |
| Model | NZT |
| Motor power | Electric |
| Maximum power, kW/h | 125 |
| Maximum torque, Nm | 590 |
| Battery type | Lithium Ion Battery Pack |
| Charging time, hours | 2.0 |
| Electrical Acceleration, 0-100 km/h | 3.5 |
| Top Speed, km/h | 100 |
| Weight, kg | 2382 kg |
| Power reserve, km | 240 |