Desctiption
Specifications
Charging speed of the car
Super Soco CUx SE Ducati electric scooter
Limited edition electric scooter with synchronization with a smartphone, IP65 protection against moisture range up to 150 km. Engine power is 2,788 watts, and the climbing angle is 15°. The maximum speed is 65 km/h. Front LED optics.
The body is equipped with a hydraulic front shock absorber with a stroke of 35 mm and a rear one with a stroke of 30 mm. The body is IP65 waterproof, so it is not afraid of rain and dust. The driver's feet are placed on a wide platform with a textured surface.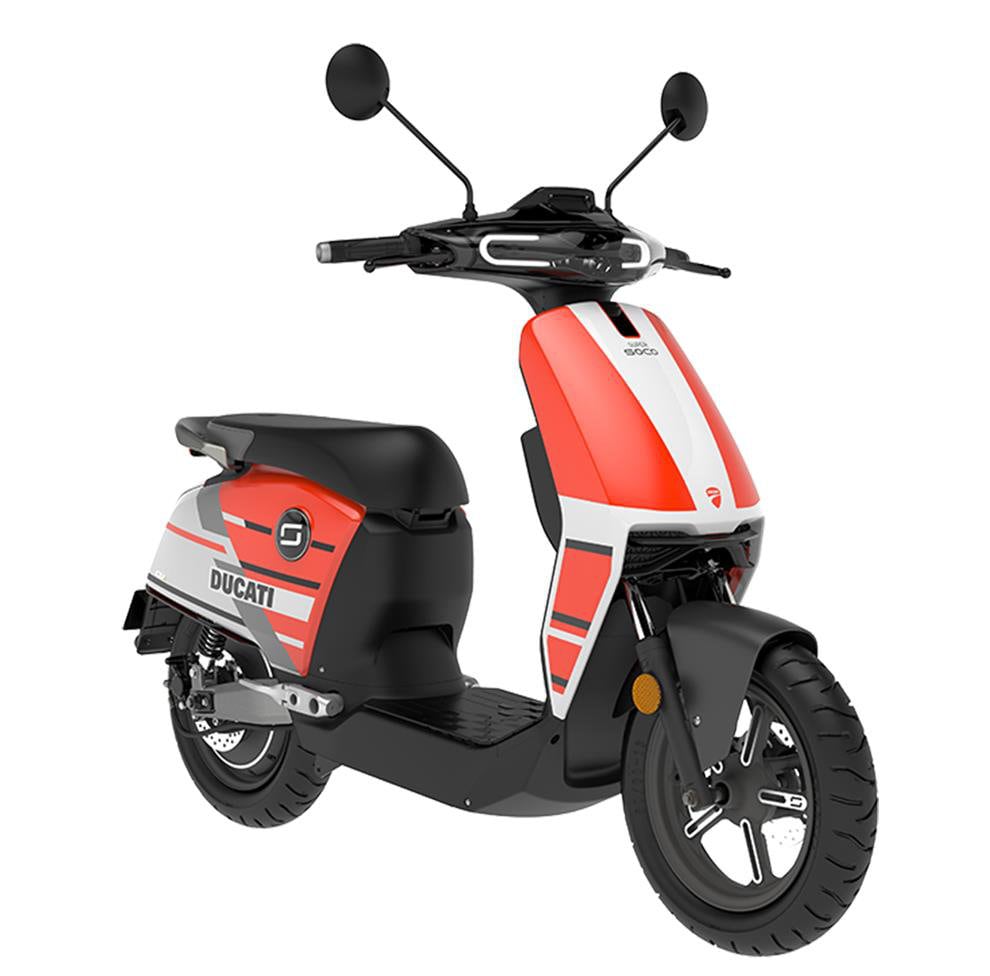 Model features:
Matrix front LED optics that won't dazzle drivers The range of illumination reaches up to 75 meters.
Synchronization with a smartphone via Bluetooth module allows for remote monitoring and adjustment of the vehicle's operation.
The 2,788-watt electric motor creates conditions for fast acceleration.
Front and rear disc brakes have an emergency braking system.
The range of autonomous travel is 75 km.
LCD display with a 150° viewing angle and automatic brightness adjustment. Provides information about the driving mode, power reserve, temperature, etc.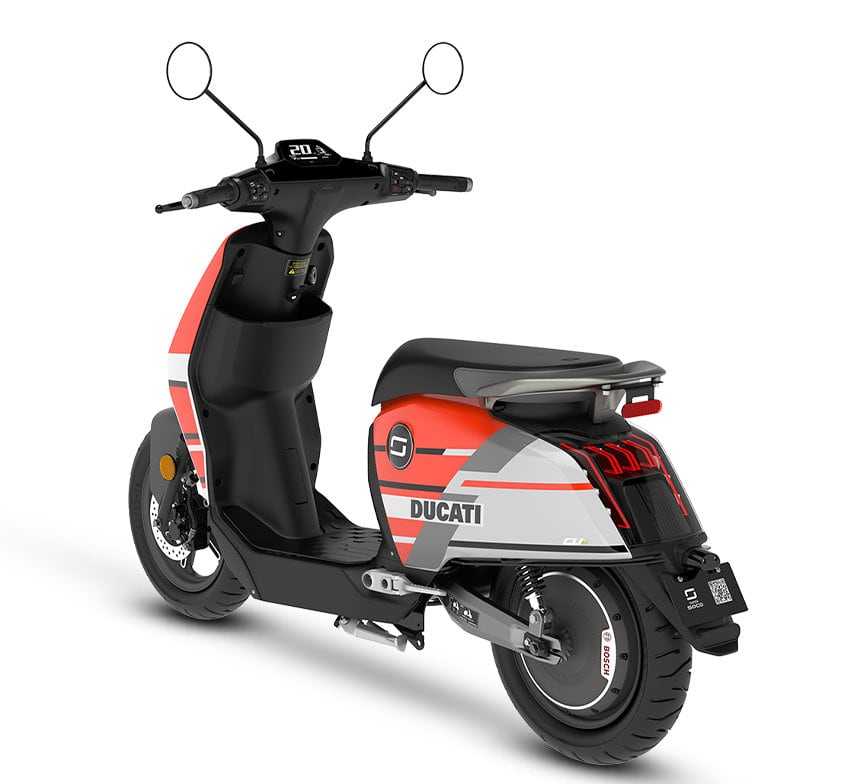 The Super Soco Cux SE Ducati features a Bosch engine with a maximum torque of 115 Nm and power of 2788 watts. The FOC Vector Controller 3.0 power management system is designed to automatically determine the force required, which is calculated based on road conditions.
The removable battery has a capacity of 60 V / 30 Ah and a charging time of 7 hours. The driving range is 75 kilometers.
| | |
| --- | --- |
| Engine | |
| | |
| Max. Power: | 2788W |
| Motor Type: | Electric Motor |
| Manufacturer:BOSCH | BOSCH |
| Power Management: | FOC Vector Controller 3.0 |
| Max. Torque: | 115N·m |
| Max. Climbing Angle: | 15° |
| | |
| Measurements | |
| | |
| Wheel Base | 1320mm |
| L*W*H: | 1782x318x1087mm |
| Seat Height: | 720mm |
| Ground Clearance: | 140mm |
| Front Wheel: | 90/90-12inches |
| Rear Wheel: | 90/90-12inches |
| Seats: | 2 |
| Max.Loading Weight: | 150kg |
| | |
| Batteries | |
| | |
| Max.Range: | 75 – 80 km (2 batteries up to 160 km) |
| Battery Type: | Lithium |
| Battery Capacity: | 60V/30Ah |
| Charging Time: |  7,0 Hours |
| Charger: | 90V-240VAC |
| | |
| Features | |
| | |
| Lights: | LED(front, rear, flashing) |
| Display: | LCD |
| Remote key: | 2 pieces |
| | |
| --- | --- |
| Brand | Super Soco |
| Model | CUX SE DUCATI |
| Motor power | Electric |
| Maximum power, kW | 2.8 |
| Maximum power, kW/h | 1.8 |
| Maximum torque, Nm | 115 |
| Battery type | Lithium |
| Charging time, hours | 7,0 |
| Top Speed, km/h | 65 |
| Weight, kg | 150 |
| Power reserve, km | 80 km |