Desctiption
Specifications
Super Soco TSX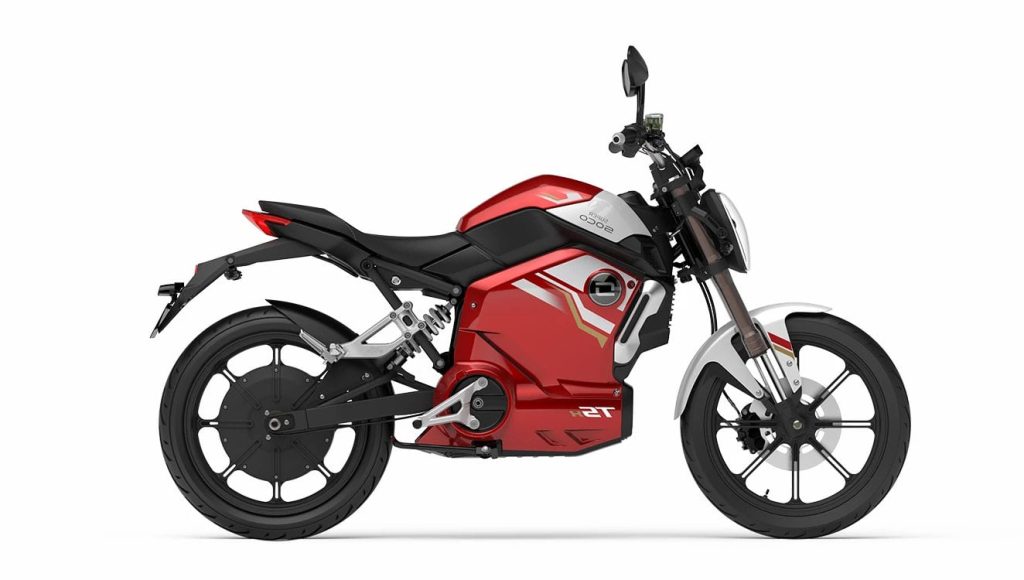 Introduction Super Soco TSX
One of the major advantages of the Super Soco TSX is its environmentally-friendly aspect, as it produces zero emissions. This makes it an ideal choice for city riders who want to reduce their carbon footprint and contribute to a cleaner environment. Additionally, the Super Soco TSX is a zero-maintenance vehicle, as it has no gears, oil, or filters to change. This makes it a cost-effective option for riders who want to save on maintenance costs.
The Super Soco TSX is also a great option for riders who want an easy-to-use vehicle. It has intuitive controls and a simple interface, making it easy to operate even for those who are new to motorcycles. This makes it a great option for riders who want to upgrade from a scooter or a bicycle.
Another great feature of the Super Soco TSX is its portability. The lightweight design of the motorcycle makes it easy to maneuver in tight spaces and traffic. This makes it a great option for city riders who have to navigate through busy streets and crowded parking lots.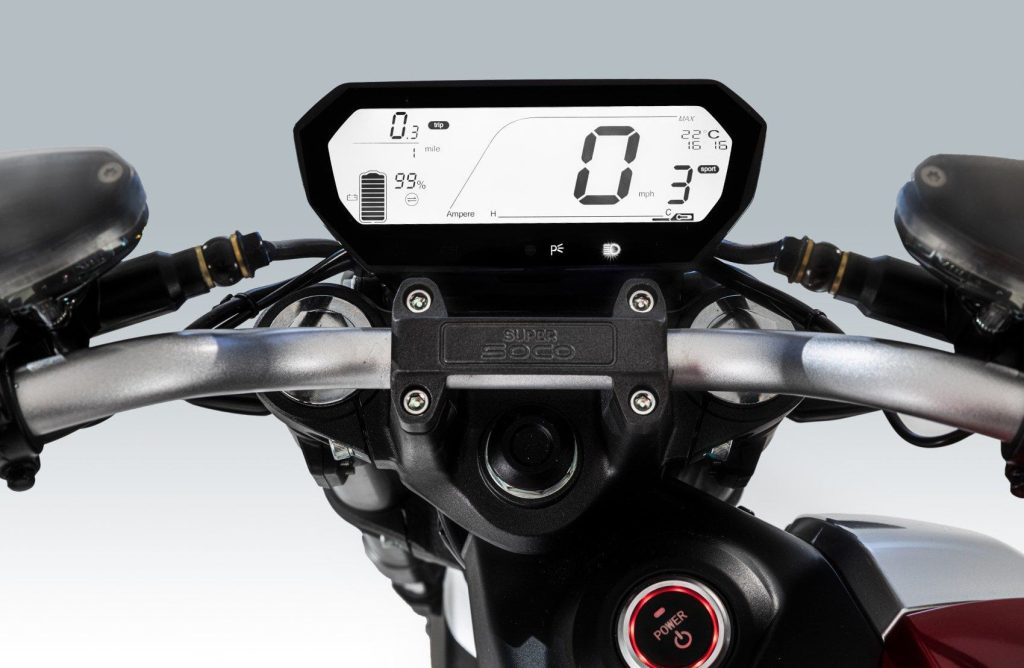 Powertrain and Performance Super Soco TSX
The Super Soco TSx differs from its predecessors in its aggressive graphics and is powered by a more powerful electric motor. Everything revolves around a high-performance 18650 lithium battery: the TS has 60V 26Ah, and the TSx has 60V 30Ah. They are removable and provide exceptional performance: the Super Soco TSx has a maximum range of 65-70 km without recharging at 45 km/h.
With the optional supplementary battery offered as an option, it can easily cover 110-120 km. A full charge takes about 7 hours, although a quick charge can shorten the process considerably. The FOC (Field Oriented Control, that is, oriented magnetic field control) controls the power supply according to the conditions of use, based on an algorithm that guarantees a 10% reduction in consumption.
The heart of the system is an electric motor supplied by Bosch. It is placed on the rear wheel with an output of 1900 watts. The speed remains what the road allows, but the climbing ability is significantly increased, allowing the TSx electric motorcycle to overcome climbs up to 17 °.
The Super SOCO TC has front and rear dual-piston disc brakes with a CBS emergency braking system.
The front LED unit provides classic styling for powerful illumination. The headlight itself is equipped with a sensor. Headlights can work in the adaptive lighting mode.
Super SOCO TC has a classic speedometer combined with a modern high-contrast LCD panel. Which provides access to information such as battery charge status and range.
Super Soco TC is a true smart scooter that connects to your smartphone to access a proprietary app where you can adjust bike settings, and monitor speed, and battery status.
The scooter is available in many colors and offers a large number of optional accessories.
All units and assemblies of the scooter are moisture-resistant.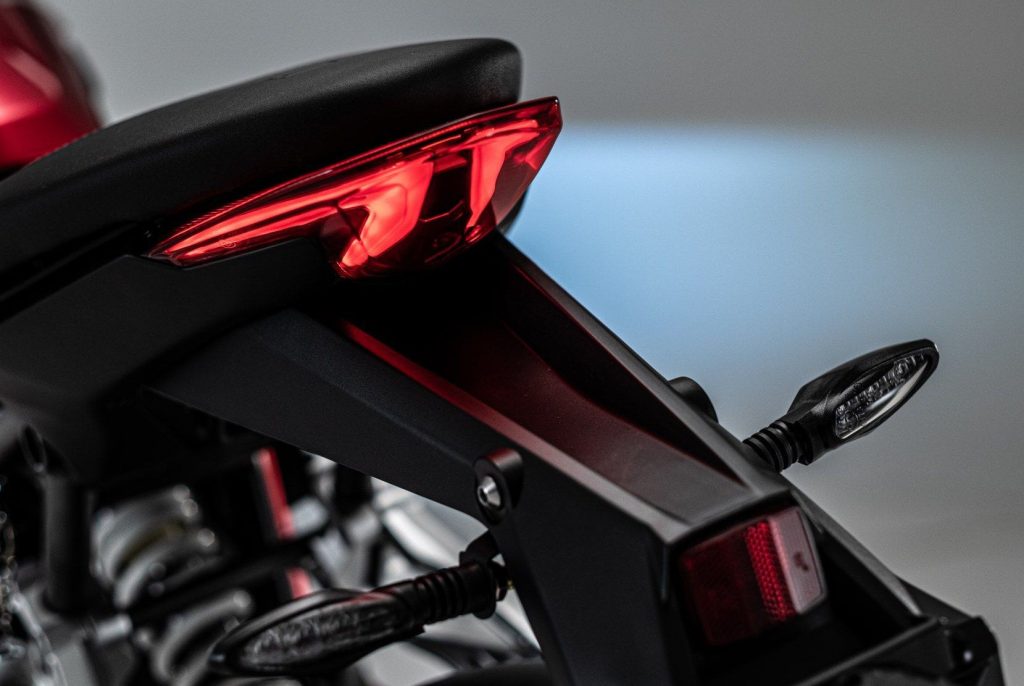 Storage and Additional Features Super Soco TSX
The Super Soco TSX has a built-in storage compartment under the seat that is large enough to store a helmet and other small items. It also has LED lights that provide excellent visibility and a modern look. The Super Soco TSX is available in a variety of colors, such as black, white, and blue, and it has a weight of 130 KG and dimensions of 2.01m, a width of 0.75m, and a height of 1.08m.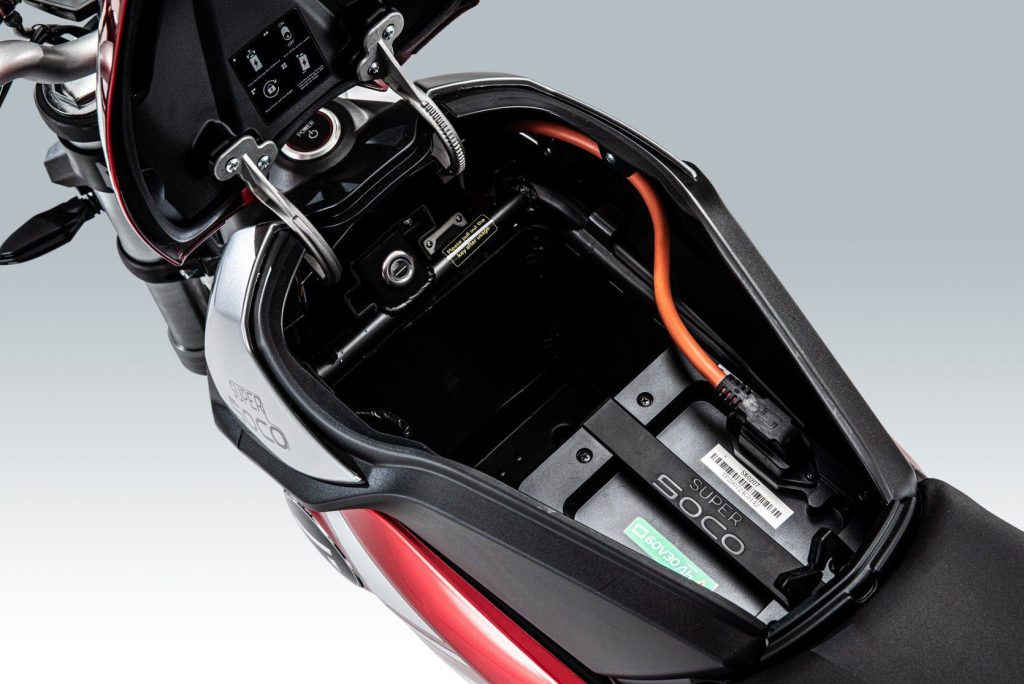 Warranty and Certification Super Soco TSX
The Super Soco TSX comes with a one-year warranty on the battery and a two-year warranty on the motorcycle. Additionally, it is certified to meet European regulations for electric vehicles, ensuring that it meets the highest standards for safety and performance.
Conclusion Super Soco TSX
In conclusion, the Super Soco TSX is a modern and affordable electric motorcycle that is perfect for urban riders. It offers a range of features that make it easy to use, safe, and efficient, making it an ideal option for city transportation. With its environmentally-friendly aspect, zero maintenance, and easy-to-use design, the Super Soco TSX is a great choice for riders who want a cost-effective and sustainable option for transportation.
| | |
| --- | --- |
| ENGINE SYSTEM. | |
| | |
| Motor: | Super Soco 1800w |
| Rated power and torque: | 1800W / 140 Nm |
| Rear wheel torque peak power: | 2900W / |
| Maximum renewable power: | 5% ~ 10% |
| Controller: | FOC VECTOR CONTROLLER V 3.0. |
| Energy Efficiency Conversion Factor: | 93% |
| | |
| COMPLETE. | |
| | |
| Super Soco TSx electric motorcycle. | 1pc. |
| 60V30Ah battery for Super Soco TC /TSx. | 1pc. |
| Battery charger 4A for Super Soco TSx. | 1pc. |
| Keys with remote control: | 2pc. |
| Anti-theft alarm system: | State. |
| Steering column lock: | Check. |
| Passenger footrest: | Check. |
| Parking electronic side step: | Check. |
| | |
| TECHNICAL DATA. | |
| | |
| Front wheel: | Alloy wheels, eight spokes. CORDIAL 90/80/17 tires. |
| Rear wheel: | Light-alloy disk, eight spokes. CORDIAL 110/70/17 tires. |
| Suspension front: | 35 mm inverted hydraulic shock absorbers. |
| Front fork travel: | 95mm. |
| Suspension Rear: | Central hydraulic shock. |
| Rear suspension travel: | 30 mm. |
| Hydraulic CBS front brakes: | 220 mm, disc brake with three-piston floating caliper. |
| Hydraulic CBS rear brakes: | 180 mm, disc brake with single-piston floating caliper. |
| Braking distance on dry road at 60 km/h: | Not more than 18m. |
| Gear Modes: | D 3-mode (forward). D1-25km/h D2-45km/h D3-75km/h |
| Ground clearance: | 198mm. |
| Seat height: | 770mm. |
| Maximum steering angle: | 40° |
| Front fork tilt: | 25° |
| Axle spacing: | 1320mm |
| Motor location: | Rear wheel. |
| Drive: | Motor wheel. |
| Keyless start and stop: | With activated alarm and anti-theft system. |
| | |
| BATTERY. | |
| | |
| Battery: | Lithium battery 60V30Ah. Removable. |
| Standard current charge: | 4А. |
| | |
| | |
| Battery Weight: | 14.7 kg. |
| Number of recharge cycles: | 1200 cycles. |
| Standard charging time: | 8-9 hours. |
| Temperature range for use: | -10 ℃ to50 ℃ |
| Temperature range for storage: | -10 ℃ to50 ℃ |
| Load temperature range. | 0 ℃ to 45 ℃ |
| Smart BMS battery management system: | Overcharge protection, Short circuit protection, Temperature protection, Battery balancer, Overvoltage. |
| | |
| Battery life: | 5 years. |
| | |
| Compartment material: | Aluminum case. |
| | |
| Moisture protection: | IP65 standard. |
| | |
| --- | --- |
| Brand | Super Soco |
| Model | TSX |
| Motor power | Electric |
| Maximum power, kW | 2.9 |
| Maximum power, kW/h | 1.8 |
| Maximum torque, Nm | 55 |
| Battery type | Lithium |
| Charging time, hours | 8.0 |
| Top Speed, km/h | 75 |
| Weight, kg | 65 |
| Power reserve, km | 70 |