Desctiption
Specifications
Volvo 7900 Electric
The Volvo 7900 Electric is an all-electric bus developed by the Swedish automaker Volvo Group. The bus is designed for urban use and is intended to help reduce emissions and noise pollution in urban areas.
The Volvo 7900 Electric is powered by a 470kW electric motor with 400Nm of torque and can travel up to 200km (124 miles) on a single charge, depending on battery configuration. The bus is equipped with regenerative braking, which helps to charge the batteries while driving, further increasing its efficiency.
In addition to the electric drivetrain, the Volvo 7900 Electric is equipped with a number of other advanced technologies, including an advanced driver assistance system that helps improve safety and reduce the risk of accidents. The bus also features a number of design innovations aimed at improving passenger comfort and accessibility, such as low seating and panoramic windows.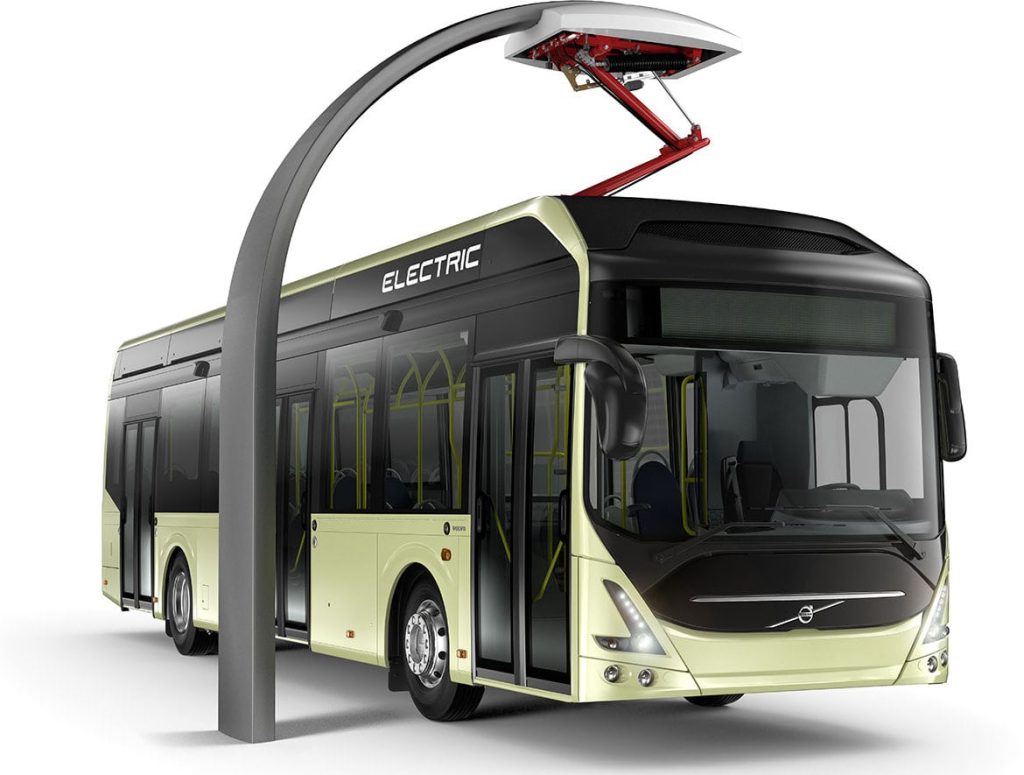 Overall, the Volvo 7900 Electric represents a significant step forward in green transportation, offering a cleaner, quieter, and more efficient alternative to traditional diesel buses.
| | | | | |
| --- | --- | --- | --- | --- |
| Dimensions and weights | | | | |
| | | | | |
| Model | | 12.0 m | 18.0 m | 18.7 m |
| Length (mm) | | 12 | 17,849 | 18,557 |
| Width (mm) | | 2,55 | 2,55 | 2,55 |
| Height (mm) | | 3,3 | 3,3 | 3,3 |
| Permitted GVW (kg) | | 19,5 | 30 | 30 |
| | | | | |
| Passenger capacity | | | | |
| | | | | |
| Model | | 12.0 m | 18.0 m | 18.7 m |
| No. of passengers | | 95 | 150 | 145 |
| | | | | |
| Driveline | | | | |
| | | | | |
| Model | | 12.0 m | 18.0 m | 18.7 m |
| Electric motor, output max (kW) | | 200 | 2×200 | 2×200 |
| Max wheel torque (Nm) | | 19 | 31 | 31 |
| Gearbox | | 2-speed automated manual transmission | | |
| | | | | |
| Charging* | | | | |
| | | | | |
| Model | | 12.0 m | 18.0 m | 18.7 m |
| Roof charging: OppCharge and panto up (roof-mounted pantograph), max charge power (kW) | | 300 | 400 | 450 |
| CCS max charge power (kW) | | 150 | 150 | 150 |
| * Max charge power depending on configuration of the energy storage system. | | | | |
| | | | | |
| Energy storage | | | | |
| | | | | |
| Model | | 12.0 m | 18.0 m | 18.7 m |
| Capacity (kW) | | up to 470 | up to 470 | up to 565 |
| Traction battery | | Lithium-ion battery. Automatically temperature controlled. | | |
| | | | | |
| Axles and steering | | | | |
| | | | | |
| Front axle | | Volvo rigid low beam axle | | |
| Rear axle | | ZF AV133 | | |
| Steering | | Electrically powered hydraulic steering | | |
| | | Volvo Dynamic Steering as option | | |
| | | | | |
| Brakes | | | | |
| | | | | |
| Brake systems | | Volvo disc brakes | | |
| | | Electronic Braking System (EBS5) | | |
| | | Anti-lock Braking System (ABS) | | |
| | | Acceleration Slip Regulator (ASR) | | |
| | | Brake blending | | |
| | | Hill start aid | | |
| | | Electronic Stability Program (ESP) as option on 12.0 m | | |
| | | | | |
| Climate system | | | | |
| | | | | |
| Model | | 12.0 m | 18.0 m | 18.7 m |
| Roof mounted HVAC, cooling / heating at Q80 (kW) | | 25/37 | 31/56 | 31/56 |
| Defroster, cooling / heating at Q80 (kW) | | 5.5/18 | 5.5/18 | 5.5/18 |
| Driver AC, electrical roof-mounted driver AC, connected to defroster | | optional | – | – |
| Driver AC, defroster connected to passenger AC unit | | standard | standard | standard |
| Auxiliary heater, total (kW) | | 30 | 41 | 41 |
| Auxiliary heater, electric / fuel (kW) | | 14/16 | 18/23 | 18/23 |
| | |
| --- | --- |
| Brand | Volvo |
| Model | 7900 Electric |
| Car Engine | electric |
| Motor power | 160 |
| Maximum Torque, Nm | 400 |
| Battery Energy, kWh | 470 |
| Power reserve (NEDC/EPA/WLTP), km | - / - / 200 |
| Level Charging (230/400/DC), hours | - / - / 4.0 |
| Top Speed, km/h | 50 |