Desctiption
Specifications
ZERO FXS ZF 3.6 MODULAR
A powerful and lightweight electric cross-bike that looks like an alien from the future. Hard enduro is now possible on an electric bike. Innovative construction, futuristic styling, and an aggressive design are what set the ZERO FX apart from other cross-country bikes. Low weight and crazy dynamics allow this bike to do the most difficult tricks and pass any trail. The lack of exhaust and quietness allows you to use this electric motorcycle for competitions, training in enclosed spaces, and operation in protected areas. Also due to their characteristics Zero motorcycles are used by the U.S. Army and special forces in various special operations.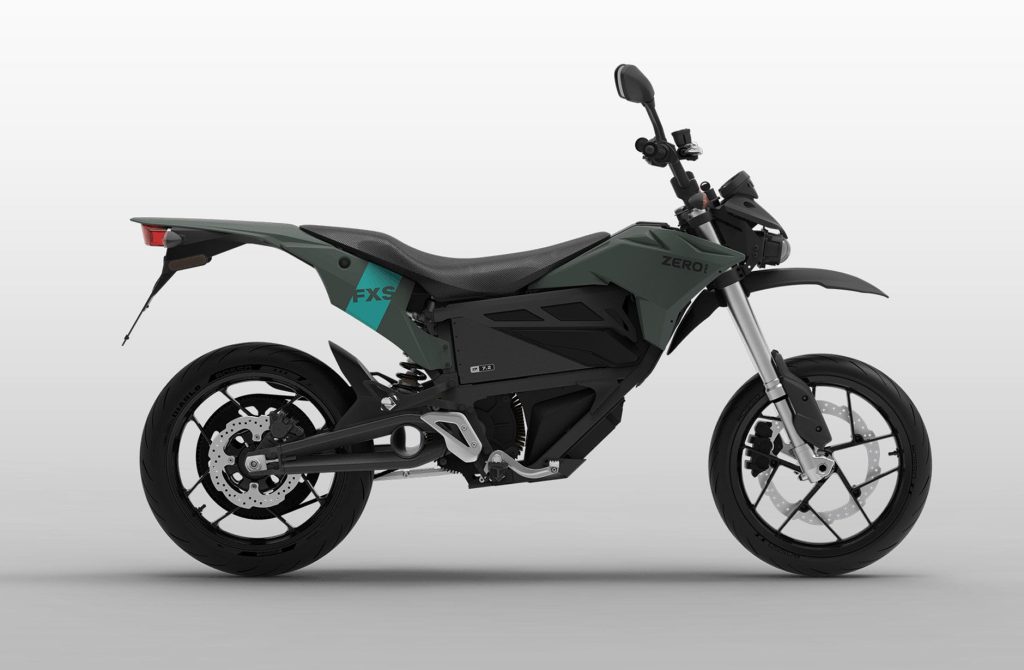 The main "feature" of Zero FX is a quick-release battery module. The battery can be charged either on the bike with the built-in battery charger or separately from the bike with an external battery charger. This provides high mobility; you can simply replace a discharged module with a charged one and continue riding. At the same time, the battery can be fully charged within an hour with CHAdeMO fast charging stations.
The proprietary Z-Force electric motor with 33 kW of power and tremendous torque from zero rpm gives Zero FX incredible traction and acceleration. A simple and efficient direct power transmission from the engine to the rear wheel provides a quick response on the throttle grip and allows you to pass the track without the distraction of shifting gears and clutching.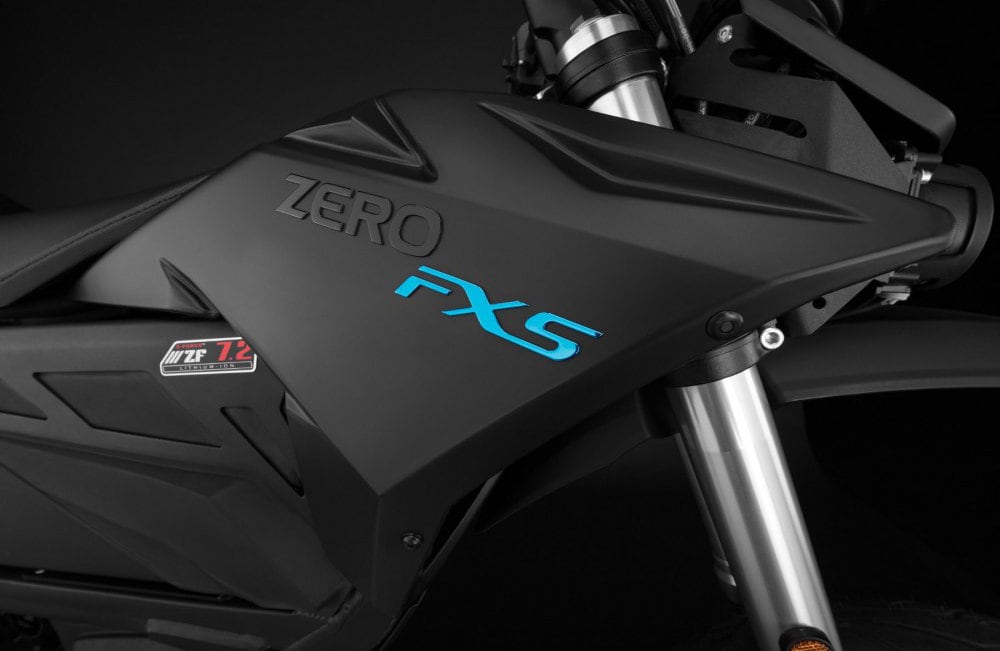 The Zero FX electric motorcycle is made almost entirely from aluminum and composites. This has resulted in a very low weight with very high power output. Built from the ground up, the high-strength frame ensures high rigidity and reliability in all conditions.
Zero's design is futuristic and aggressive. The headlamp is integrated into a single unit with a redesigned instrument cluster, which, like on other Zero electric bikes, has been replaced with an elegant digital LCD panel with more contrasting characters and pleasant blue backlighting. The new design didn't go unnoticed by the experts – Forbes magazine called the Zero FX "Batman's motorcycle."

For "advanced" riders, there is a branded application for smartphones. Zero Motorcycles App, which by Bluetooth allows access to all the parameters and settings of an electric bike and configures its characteristics to your liking. The app works on Apple iPhones and Android smartphones. In the event of a malfunction, you can use it to send a report to customer service.
| | |
| --- | --- |
| RANGE | ZERO FXS ZF3.6 MODULAR |
| | |
| City | 50 miles (80 km) |
| Highway, 55 mph (89 km/h) | 30 miles (48 km) |
| Combined | 37 miles (60 km) |
| Highway, 70 mph (113 km/h) | 20 miles (32 km) |
| Combined | 29 miles (47 km) |
| | |
| MOTOR | |
| | |
| Peak torque | 78 ft-lb (106 Nm) |
| Peak power | 27 hp (20 kW) @ 4,300 rpm |
| Top speed (max) | 85 mph (137 km/h) |
| Top speed (sustained) | 75 mph (121 km/h) |
| Type | Z-Force® 75-5 passively air-cooled, high efficiency, radial flux, interior permanent magnet, brushless motor |
| Controller | High efficiency, 550 amp, 3-phase brushless controller with regenerative deceleration |
| | |
| POWER SYSTEM | |
| | |
| Power pack | Z-Force® Li-Ion intelligent modular |
| Max capacity | 3.6 kWh |
| Nominal capacity | 3.2 kWh |
| Charger type | 650 W, integrated |
| Charge time (standard) | 5.1 hours (100% charged) / 4.6 hours (95% charged) |
| With one accessory charger | 2.3 hours (100% charged) / 1.8 hours (95% charged) |
| With max accessory chargers | 1.6 hours (100% charged) / 1.1 hours (95% charged) |
| Input | Standard 110 V or 220 V |
| | |
| DRIVETRAIN | |
| | |
| Transmission | Clutchless direct drive |
| Final drive | 90T / 18T, Poly Chain® HTD® Carbon™ belt |
| | |
| CHASSIS / SUSPENSION / BRAKES | |
| | |
| Front suspension | Showa 41 mm inverted cartridge forks, with adjustable spring preload, compression and rebound damping |
| Rear suspension | Showa 40 mm piston, piggy-back reservoir shock with adjustable spring preload, compression and rebound damping |
| Front suspension travel | 7.00 in (178 mm) |
| Rear suspension travel | 8.94 in (227 mm) |
| Front brakes | Bosch Gen 9 ABS, J-Juan asymmetric dual piston floating caliper, 320 x 5 mm disc |
| Rear brakes | Bosch Gen 9 ABS, J-Juan single piston floating caliper, 240 x 4.5 mm disc |
| Front tire | Pirelli Diablo Rosso II 110/70-17 |
| Rear tire | Pirelli Diablo Rosso II 140/70-17 |
| Front wheel | 3.00 x 17 |
| Rear wheel | 3.50 x 17 |
| | |
| DIMENSIONS | |
| | |
| Wheelbase | 56.0 in (1,422 mm) |
| Seat height | 32.9 in (836 mm) |
| Rake | 24.4° |
| Trail | 2.8 in (71 mm) |
| | |
| WEIGHT | |
| | |
| Curb weight | 251 lb (114 kg) |
| Carrying capacity | 379 lb (172 kg) |
| | |
| WARRANTY | |
| | |
| Standard motorcycle warranty | 2 years |
| Power pack warranty | 5 years/unlimited miles |
| | |
| --- | --- |
| Brand | ZERO |
| Model | FXS ZF3.6 MODULAR |
| Motor power | Electric |
| Maximum power, kW | 20 |
| Maximum power, kW/h | 3.6 |
| Maximum torque, Nm | 106 |
| Battery type | Z-Force® Li-Ion intelligent modular |
| Charging time, hours | 2.3 |
| Electrical Acceleration, 0-100 km/h | 4.3 |
| Top Speed, km/h | 137 |
| Weight, kg | 114 |
| Power reserve, km | 80 |