Desctiption
Specifications
Zero SR/S
Just a few weeks after the publication of the first teaser, a new model has been unveiled. Zero Motorcycles rolled out the new Zero SR/S 2020, which is the company's first electric bike with a fairing. The premiere was originally scheduled for Feb. 24, but Zero had to accelerate due to a leaked video.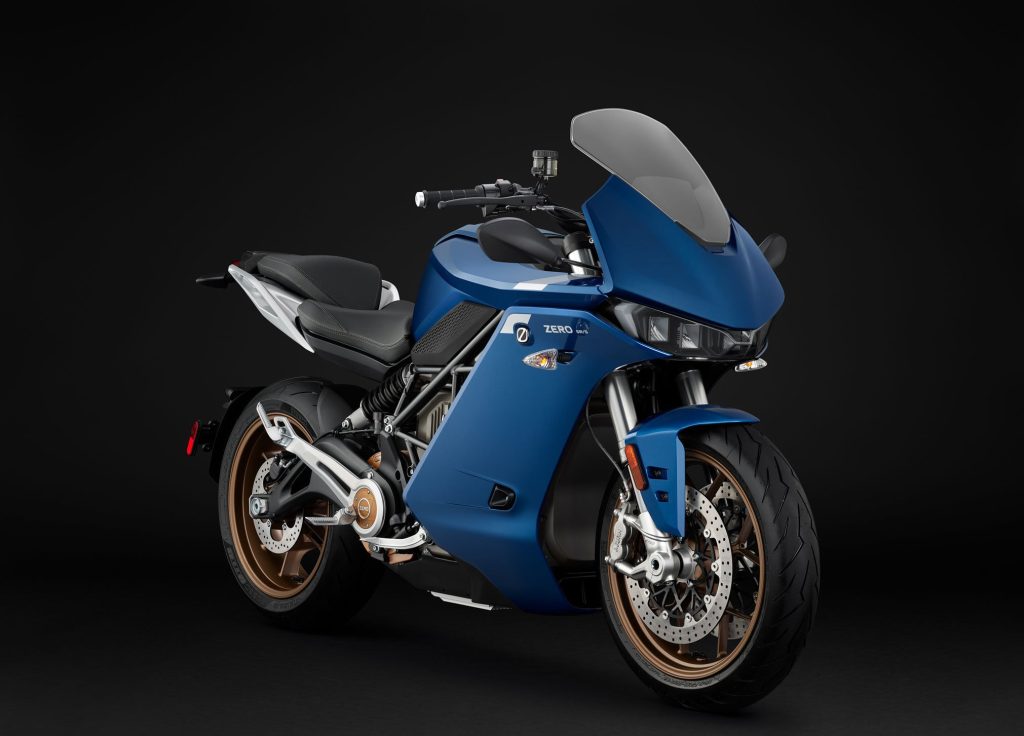 The Zero SR/S 2020 is, as expected, a sporty touring bike. It has a more relaxed fit than the SR/F. This was achieved at the expense of a higher handlebar, low footpegs, and an additional windbreaker. The saddle height is 787 mm, and the electric bike weight is 229 kg (standard model) and 234 kg (premium model).
The updated geometry should guarantee comfort in the saddle, especially for taller riders. Thanks to aerodynamics, the range on the freeway increased by 13 percent. The passenger was not forgotten either. The large saddle and low footrests should not create discomfort.
The Zero SR/S 2020 is powered by a Neuked powertrain: a ZF75-10 electric motor with a ZF14.4 battery pack. The cruising range is expected to be 260 km in the city and 132 km on the highway. If you install a "Power Tank," you can increase the range to 165 km on the highway. The top speed is 200 km/h.
Charging up to 95 percent takes 1 hour with a special charger for 6 kW or 4 hours with a standard charger for 3 kW. Other features include the Bosch directional stability system, cornering ABS, and 14 modes. The Zero Cypher III operating system is used for control.
| | |
| --- | --- |
| ELECTROMOTOR | |
| | |
| Maximum power | 140 hp. (82 kW) at 5,000 rpm. |
| Maximum torque | 190 Nm |
| Type | Z-Force® 75-10 high-efficiency permanent magnet brushless motor with passive air cooling |
| Controller | High efficiency 3-phase inverter with energy recovery function. 900A current |
| | |
| DYNAMIC PERFORMANCE | |
| | |
| Maximal speed | 200 km/h |
| Acceleration to 100 km/h | 3 sec |
| | |
| RECHARGEABLE BATTERY | |
| | |
| Model | Z-Force® Li-Ion intelligent |
| Maximum capacity | 14.4 kWh |
| Rated (usable) capacity | 12.6 kWh |
| Battery charger | 6 kW |
| Time to fully charge using built-in standard charger | 2,5-3 ч. |
| Charging time with fast charger (optional) | 1,5-1,8 ч. |
| | |
| SPEED STANDBY | |
| | |
| City mode | 259 km |
| City/highway speed 89 km/h | 159 km |
| Combo (city/highway 89 km/h) | 198 km |
| 113 km/h On the highway | 132 km |
| Combo (city/highway 113 km/h) | 175 km |
| | |
| TRANSMISSION | |
| | |
| Type | Single-speed belt drive from motor to rear wheel, 90T / 20T ratio, Poly Chain GT Carbon™ belt |
| | |
| CHASSIS / SUSPENSION / BRAKES | |
| | |
| Front suspension | SHOWA 43 mm inverted aluminum fork with adjustable rebound and compression stroke |
| Rear suspension | SHOWA 40mm w/ outboard reservoir shock absorber with adjustable spring tension, rebound & compression travel |
| Stroke of front suspension | 120 mm |
| Rear suspension travel | 140 mm |
| Front brakes | J-Juan 4-piston calipers, 320×5 mm discs |
| Rear brakes | J-Juan 1-piston calliper, 240×4.5 mm disc |
| Safety System | Bosch Advanced MSC (ABS, TRACTION CONTROL) |
| Front wheel | Pirelli Diablo Rosso III 120/70-17 |
| Rear wheel | Pirelli Diablo Rosso III 180/55-17 |
| | |
| DIMENSIONS AND WEIGHT | |
| | |
| Wheelbase | 1450 mm |
| Seat height | 787 mm |
| Track | 940 mm |
| Curb weight | 234 kg |
| Carrying capacity | 220 kg |
| | |
| COLOR | gray, blue |
| | |
| WARRANTY | |
| | |
| Factory Warranty | 2 years/5 years on battery |
| | |
| --- | --- |
| Brand | Zero |
| Model | SR/S |
| Motor power | Electric |
| Maximum power, kW | 82 |
| Maximum power, kW/h | 14.4 |
| Maximum torque, Nm | 190 |
| Battery type | Z-Force® Li-Ion intelligen |
| Charging time, hours | 3 |
| Electrical Acceleration, 0-100 km/h | 3 |
| Top Speed, km/h | 200 |
| Weight, kg | 234 |
| Power reserve, km | 259 |