Desctiption
Specifications
ZERO SR ZF 14.4 + POWER TANK
Cool bike with a powerful motor and the longest recorded ride range on a single charge among electric motorcycles from ZERO and other manufacturers. It has a neat, sporty design. Fast, powerful, and stylish bike for those who want to move around a lot or always be sure that the charge is enough for the trip. Great on both city roads and the highway.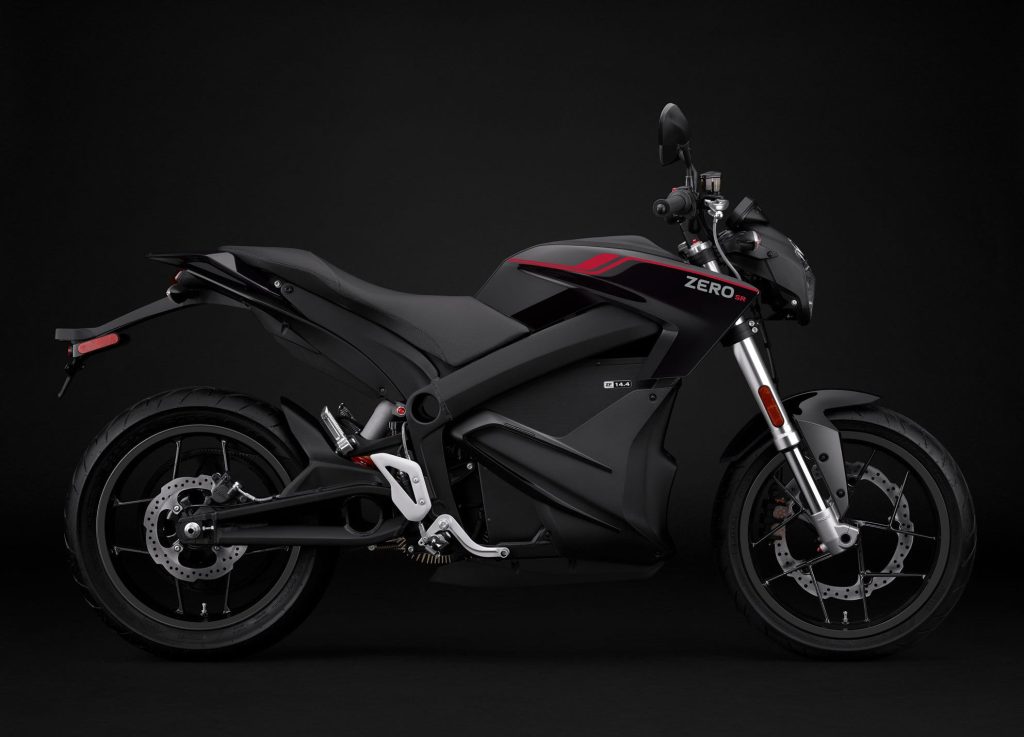 The ZERO SR ZF14.4 electric motorcycle with PowerTank has a powerful 18.0 kWh battery. That's enough to travel 359 kilometers on a single charge. That's enough for city travel, and you'll feel confident when you're traveling, too. A powerful 70-horsepower engine allows you to reach speeds up to 164 km/h.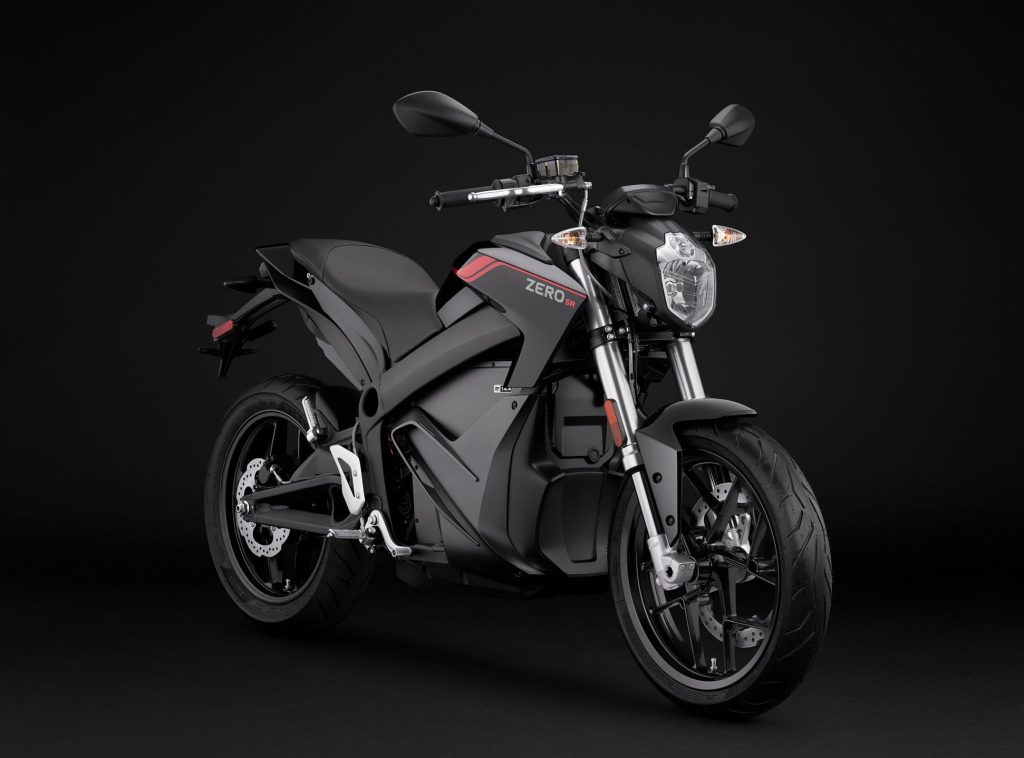 The motorcycle has no clutch and no gearbox. This is achieved by the fact that the engine acts directly on the wheel through the drive. This simplifies the entire running gear as well, removing complicated components that require periodic maintenance and attention when riding. A twist of the throttle grip can accelerate the electric bike from 0 to 100 km/h in a matter of seconds and keep it running smoothly at the speed you want.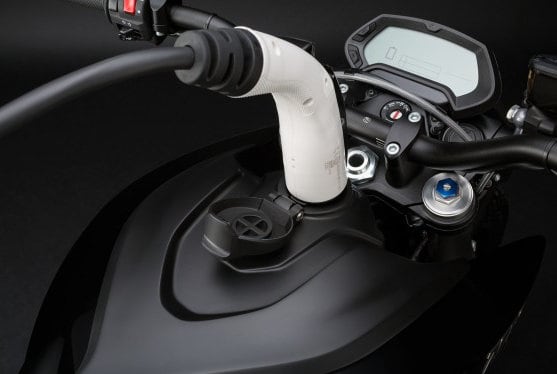 Another advantage of the ZERO SR ZF14.4 with PowerTank, like all ZERO motorcycles, is that you can charge it from a normal household power grid. You don't need to think about special chargers or consider them in your route planning. All you need is a regular outlet. And with fast charging (optional), the charging process is up to six times faster. The ZERO SR ZF14.4 with PowerTank is the bike for those who need to move around a lot or for those who want to ride and think less about the next battery charge.
| | |
| --- | --- |
| RANGE | ZERO SR ZF14.4 +POWER TANK |
| | |
| City | 223 miles (359 km) |
| Highway, 55 mph (89 km/h) | 136 miles (219 km) |
| Combined | 169 miles (272 km) |
| Highway, 70 mph (113 km/h) | 112 miles (180 km) |
| Combined | 150 miles (241 km) |
| | |
| MOTOR | |
| | |
| Peak torque | 116 ft-lb (157 Nm) |
| Peak power | 70 hp (52 kW) @ 3,500 rpm |
| Top speed (max) | 102 mph (164 km/h) |
| Top speed (sustained) | 95 mph (153 km/h) |
| Type | Z-Force® 75-7R passively air-cooled, high efficiency, radial flux, interior permanent hi-temp magnet, brushless motor |
| Controller | High efficiency, 775 amp, 3-phase brushless controller with regenerative deceleration |
| | |
| POWER SYSTEM | |
| | |
| Power pack | Z-Force® Li-Ion intelligent integrated |
| Max capacity | 18.0 kWh |
| Nominal capacity | 15.8 kWh |
| Charger type | 1.3 kW, integrated |
| Charge time (standard) | 12.1 hours (100% charged) / 11.6 hours (95% charged) |
| With Charge Tank option | N/A |
| With one accessory charger | 7.0 hours (100% charged) / 6.5 hours (95% charged) |
| With max accessory chargers | 3.3 hours (100% charged) / 2.8 hours (95% charged) |
| Input | Standard 110 V or 220 V |
| | |
| DRIVETRAIN | |
| | |
| Transmission | Clutchless direct drive |
| Final drive | 90T / 20T, Poly Chain® HTD® Carbon™ belt |
| | |
| CHASSIS / SUSPENSION / BRAKES | |
| | |
| Front suspension | Showa 41 mm inverted cartridge forks, with adjustable spring preload, compression and rebound damping |
| Rear suspension | Showa 40 mm piston, piggy-back reservoir shock with adjustable spring preload, compression and rebound damping |
| Front suspension travel | 6.25 in (159 mm) |
| Rear suspension travel | 6.35 in (161 mm) |
| Front brakes | Bosch Gen 9 ABS, J-Juan asymmetric dual piston floating caliper, 320 x 5 mm disc |
| Rear brakes | Bosch Gen 9 ABS, J-Juan single piston floating caliper, 240 x 4.5 mm disc |
| Front tire | Pirelli Diablo Rosso II 110/70-17 |
| Rear tire | Pirelli Diablo Rosso II 140/70-17 |
| Front wheel | 3.00 x 17 |
| Rear wheel | 3.50 x 17 |
| | |
| DIMENSIONS | |
| | |
| Wheelbase | 55.5 in (1,410 mm) |
| Seat height | 31.8 in (807 mm) |
| Rake | 24.0° |
| Trail | 3.2 in (80 mm) |
| | |
| WEIGHT | |
| | |
| Curb weight | 458 lb (208 kg) |
| Carrying capacity | 448 lb (203 kg) |
| | |
| WARRANTY | |
| | |
| Standard motorcycle warranty | 2 years |
| Power pack warranty | 5 years/unlimited km |
| | |
| --- | --- |
| Brand | ZERO |
| Model | SR ZF14.4 + POWER TANK |
| Maximum power, kW | 52 |
| Maximum power, kW/h | 18.0 |
| Maximum torque, Nm | 157 |
| Battery type | Z-Force® Li-Ion intelligent integrated |
| Charging time, hours | 3.3 |
| Electrical Acceleration, 0-100 km/h | 3.3 |
| Top Speed, km/h | 164 |
| Weight, kg | 208 |
| Power reserve, km | 359 |