BYD and its local distributor RSA successfully launched sales of the BYD Tang electric SUV in Oslo, Norway. A gala event was held to celebrate the arrival of the first 100 BYD Tang SUVs in Norway and the handover of the first vehicle to its owner.
BYD's first shipment of passenger cars to Norway marks the beginning of the company's "European dream" at a strategically important time when sales of new energy vehicles (NEVs) are beginning to grow in key markets across Europe. BYD intends to deliver 1,500 Tangs to Norway by the end of 2021. The all-electric SUV is priced at NOK 599,900 (about $68,000).
Globally, BYD is one of the first companies to produce one million electrified passenger cars, and has now established itself as a leading manufacturer of electrified vehicles in various industries.
BYD has 26 years of experience as a pioneer and expert in battery research, development and production. BYD is the only electric vehicle manufacturer in the world that produces its own powertrains, batteries, drive motors and engine management systems. These unique credentials will enable BYD to demonstrate its overall solution capabilities in Europe's growing electric vehicle markets. Thus, BYD is "electric by nature."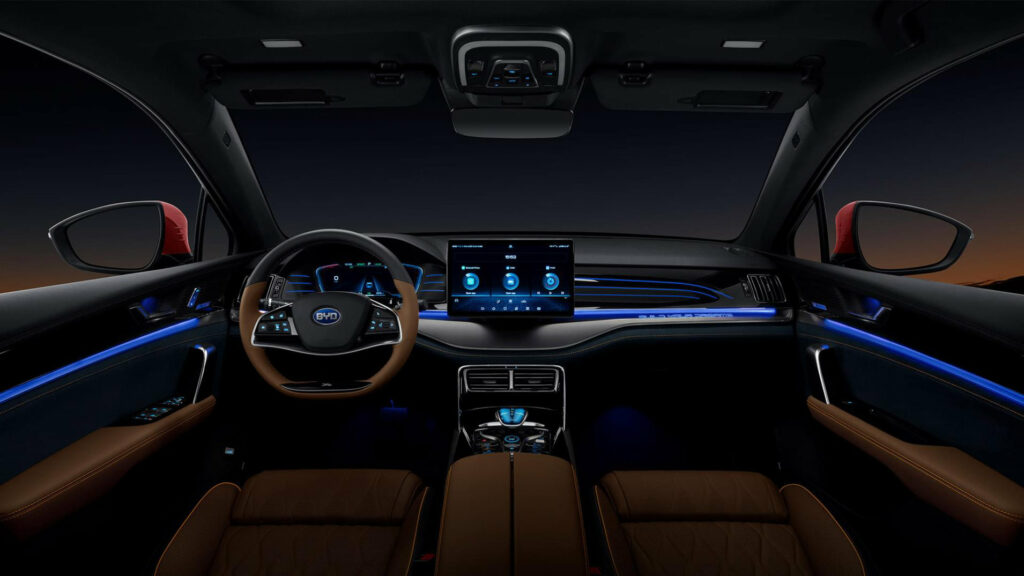 The BYD Tang all-wheel-drive SUV with all-electric drive is the embodiment of the company's "knowledge, experience and vision."
The electric vehicle is equipped with BYD's revolutionary 86.4 kW⋅h "Blade" battery, which features unparalleled technology, safety and performance. The Tang battery charges from 30% to 80% in 30 minutes using 110 kW DC power output. This ultra-safe, "game-changing" Blade battery marks a new era in the electric vehicle industry.

Performance figures for the BYD Tang SUV include a best-in-class range of 528 km (WLTP in city mode) and 400 km (WLTP in mixed mode), as well as acceleration from 0 to 100 km/h in 4.6 seconds. The braking performance of the BYD Tang SUV is also impressive: front Brembo brakes and ventilated discs in the rear provide a stopping distance of 36 meters at 100-0 km/h.
In terms of style, BYD's international design team, led by renowned designer Wolfgang Egger, combined European design with Eastern heritage to create a powerful and dynamic SUV. The BYD Tang SUV represents a new era of design for BYD, combining beauty, emotion and "inspiration in nature".
Inside, the BYD Tang SUV is practical and elegant. With seven seats and a roomy 1,655-liter interior, the vehicle features a rotating 12.8-inch touchscreen, DIRAC Live with 12 speakers, 31-color ambient lighting, premium leather seats with heated and position memory, and wireless phone charging capability.
BYD customers can benefit from an extended warranty on the Blade high-voltage battery for 8 years/160,000 km.
Working in partnership with the leading Scandinavian distributor, RSA, the company is well positioned to provide traditionally high levels of sales, after-sales service, parts and service support from RSA's 43 authorized dealers in key regions throughout Norway.
BYD's expansion into Europe's growing electric vehicle market comes at an important time, with decarbonization at the forefront of policy programs and growing consumer demand for cleaner modes of transportation.